How to Use Naloxone to Reverse Opioid Overdose and Save Lives
"I always carry Naloxone with me. I would rather be equipped for the worst than traumatized knowing there was something I could have done."
 Angie G.
How to Administer Naloxone

Naloxone is administered as a nasal spray or via injection, depending on which of the following devices it has been prepared for and packaged with.
1. Evzio auto-injector
With U.S. Food and Drug Administration (FDA) approval in 2014, this was the first auto-injector approved for non-clinical settings. The auto-injector administers a single dose of naloxone with a retractable needle, avoiding accidental needles sticks and any additional assembly. To use, place the black end against the middle of the person's outer thigh, through clothing (pants, jeans, etc.) if necessary, then press firmly and hold in place for 5 seconds. For extra reassurance, the device has a voice recording that provides step-by-step instructions as you go, including letting you know once it's OK to stop applying pressure and remove from the person's thigh.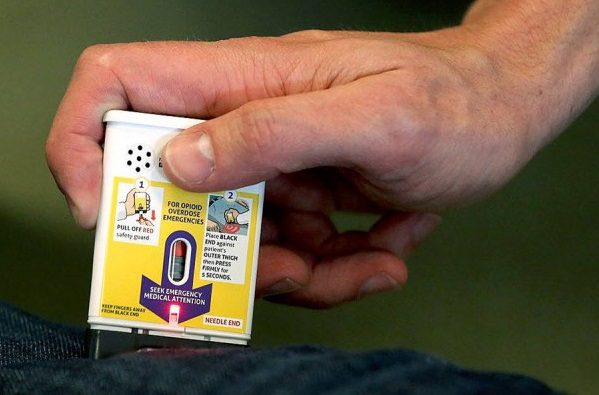 2. Narcan Nasal Spray
Narcan Nasal Spray is the most recent FDA approved naloxone product. It is very easy to use. There is nothing to assemble and each package comes with two devices prefilled with a single dose each. Simply hold the device with your thumb on the bottom and your first and middle fingers on either side of the nozzle. Gently insert the nozzle into one nostril until your fingers on either side of the nozzle are against the bottom of the person's nose. Once in place, press the plunger firmly to spray the entire dose of Narcan into one nostril. There is no need to spray into both nostrils.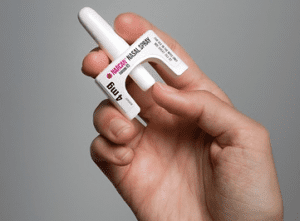 3. Luer-lock nasal atomizer
Pictured below is a pre-filled cartridge of naloxone along with the individual components of of the Luer-lock nasal atomization device. Note that the white cone-shaped nosepiece, pictured in the upper right, does not come in the same package as the medication. It is sold separately. If you cannot get the nosepiece from your drug store, it can be ordered from a number of medical supply companies without a prescription.
Once the atomizer and capsule are fully assembled, insert the white cone into the person's nostril. Give a short vigorous push on the end of capsule to spray into the nose, using one half of its contents in each nostril.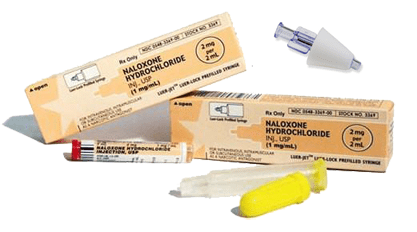 4. Injection via syringe
Injecting into the muscle of the upper thigh or upper arm with a syringe is also a very common way to administer naloxone. Many naloxone kits come with a syringe and a vial or a pre-filled cartridge of naloxone. The shot can be administered through clothes.
Talk to your pharmacist about the proper dose for naloxone. 0.4 mg/mL is commonly recommended. A second dose of 0.4 mg/mL is sometimes needed, however, if the first dose does not reverse the overdose and restore breathing.